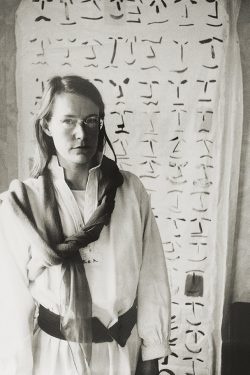 "Katharina N. Eitel is one of the outstanding artists in the contemporary paper and installation art scene".
Dr. Stefan Soltek, MAK Frankfurt 1997
After obtaining her degree at the Royal College of Art in London, she spent many years designing materials and wallpaper. Starting in the mid '80s she primarily worked as a freelance artist, whereby her artistic focus involved working with papers that she made and processed herself as well as with a contemporary marbling technique that she helped to develop.
Under the heading "Zeithaut" (roughly "membrane of time"), she designed and staged a series of, sometimes large-scale, installations in museums, exhibition halls, churches, pavilions, shop windows and similar, which involved combining the marbling technique with her paper installations, for example in her work "1001 stars for Jerusalem – the sky over Jerusalem is indivisible!" a starry canopy made up of 1001 handmade and manually-marbled star-shaped sheets. Another of her works involved installing 3003 stars throughout the rooms of the Klingspor-Museum in Offenbach.
With the exception of those works already in private hands, museums and collections, Katharina N. Eitel's entire artistic legacy is curated by the Foundation.