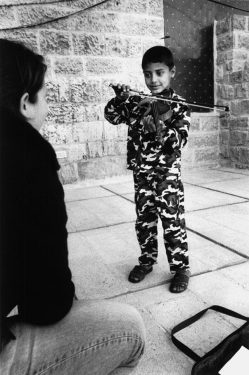 "Take the photo of 8-year-old Ahmet, for example: his body, covered from head to toe in camouflage gear, is tense; yet, in his hands he's holding a violin almost tenderly. At that moment, the lad seems to have forgotten life under Israeli occupation. Music is all that matters. Head, heart and instinct are well on their way to achieving a state of harmony: the viewer of the photo is witnessing a process of self-discovery and the healing of a traumatised young soul".
Annabel von Gemmingen (stern.de 24.7.2008)
Or there's Neil from Syria:
"With closed eyes you'd never believe you were listening to a 12-year-old kid; a kid, who was originally completely self-taught, and who didn't even have a proper piano at first". "I was in a war, and there was no music there, no music teacher, no piano" says Neil Tarabulsi. "I had a plastic keyboard with just one, two, three octaves. Tunes like Für Elise didn't sound nice on it at all. But, there was no other way".
Andreas Krieger (ttt/ARD 16.10.2016)
Both are now receiving support, Ahmet as a member of Daniel Barenboim's Youth Orchestra in Palestine, and Neil at the University of Music and Performing Arts Munich.
And children like these will also be helped through our Foundation in future, which is, of course, also keen to be involved in more general support projects, which form the starting point for such individual grants.
We will be posting regular updates about the projects we're supporting on this homepage (provided, of course, that the grant recipients agree to it).
(Photo: © Peter Dammann/Agentur Focus)